Getting to know the characters of Bug Pudding will hopefully be as much fun for you guys as it is for me. I plan on introducing them a few at a time beginning with Bentley the snail and Monroe the turtle. I've been working with these guys for a while now and they are still evolving as I get more familiar with drawing them.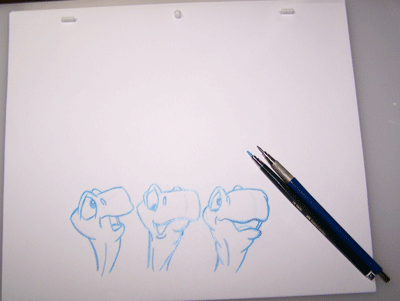 Above are some expression views that I drew of Bentley. He is actually the evolution of a snail character which I began drawing in 1983, and just like me, he looks a lot different these days. In these sketches he's missing his very expressive feelers. I actually only like to draw feelers and bug antennas when I'm finishing up a pose.  I like to try to catch the feelings of the moment in them. (no pun intended)
Here is a sketch of a close up of poor old Monroe. He is not a happy camper these days with having to vacate his shell due to the summer heat and his unwelcome new neighbors down at the lake. I have to confess that I love drawing Monroe when his is down and out like this. He is sure a funny old geezer.
I hope you enjoyed this quick peek into my behind the scenes sketching and I also hope that you will stick around and get more familiar with the other members of the Bug Pudding cast as they begin to appear over time in future strips.